** Attention: This Giveaway has since ended. Thanks everyone for participating!! **
This is a Sponsored post written by me on behalf of
Tom's of Maine
. All opinions are 100% mine.
For anyone who has been hanging out with me via the blog, you already know that I have been making changes to how we live, and focusing on being more natural and "green". And for those that didn't know that, well, it was on the top of my New Years Resolution list.
That didn't just mean that I was going to simplify our living, use greener home cleaning products, reduce waste and increase our recycling and cut down on our energy consumption... it also means using greener toiletries and cleansing products, and taking note of how companies we support, are doing their part for the environment.
I was already enjoying
Tom's of Maine
toothpaste, when I was contacted to give the new Wicked Fresh flavor a try, in both toothpaste and mouthwash! Wa to the Hoo people, I was happy dancin'!
Why is this eco-friendly? Because
Tom's of Maine
is made using all natural flavor oils and botanical extracts, giving long-lasting fresh breath. The hubs and I have been enjoying the new flavor immensely. It truly feels as it describes, Wicked Fresh, and leaves our teeth feeling great and breath smelling fresh for hours. Smoochable fresh!
But what we also love is that they are not filled with unsafe ingredients, and that they support what we support, and that is greener living. I also loved that my eyes weren't burning after 30 seconds of swishing with the mouthwash. Just sayin'....
Oh, and thanks to some smart thinking on the behalf of the brains of Amanda and Jen on our recent shopping adventure, I decided to store my uber awesome mouthwash, in this pretty glass jar. Are you swooning with me?!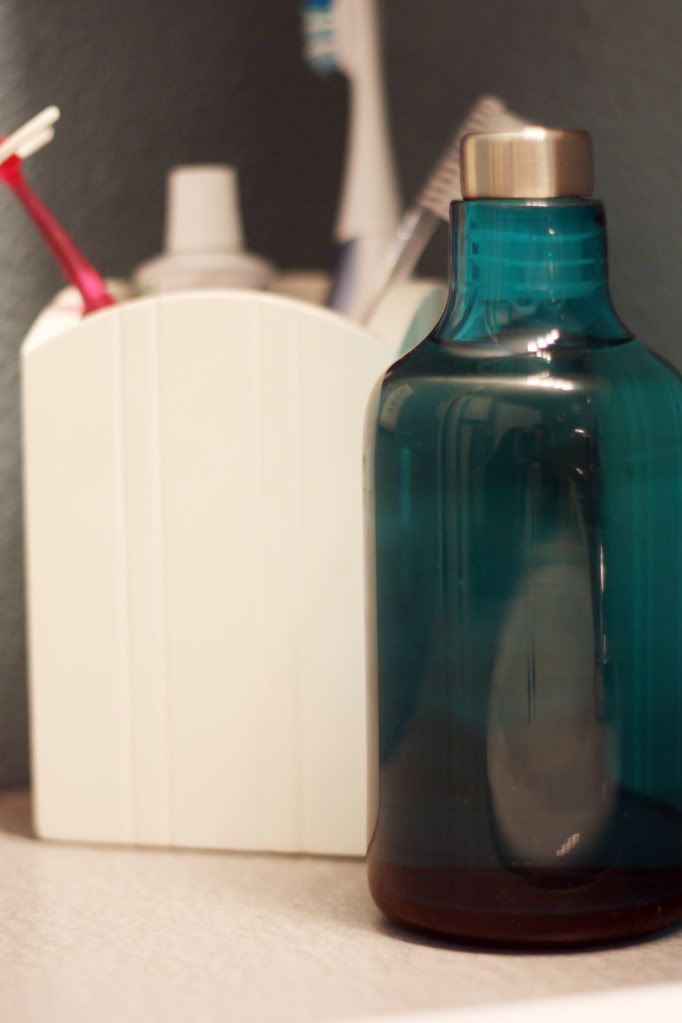 You wanna know what else totally rocks? Tom's of Maine is giving all of their fans a chance to win Wicked Fresh!™ Prizes at their
That's Wicked Fresh contest page
, and all you have to do is share your Wicked Fresh moments! You can also find them on
Facebook here
.
But that's not all! These fine folks are not only green with great tasting products, but they are also
giving one of you lucky IHeart Organizing readers, a $50 gift card to Target where Tom's of Maine products are sold!
Feel free to happy dance with me now!
Yep, that's right, and entering to win is SO easy, and you have three chances to snag up that gift card!
1.} Become a follower to IHeart Organizing and leave a comment that you have done so or already are.
2.} Leave a comment describing your most memorable Wicked Fresh!™ moment. A recent ski trip? A boating excursion? A shower?
3.} Follow @TomsofMaine on Twitter, or "Like" them on Facebook (
http://www.facebook.com/Tomsof…
) and leave another comment right here letting me know you have done so!
Contest Closes:
Thursday, December 23rd at 11:59 PM, EST
Number of Winners:
One!
Other Info:
The winner will be selected using random.org and is open to anyone who (i) is a legal U.S. resident, and (ii) is at least eighteen (18) years of age.
Thanks everyone and good luck!