Alicia wrote:
Hi Jen
It's always great to "meet" another organising junkie so I was excited to discover your blog a few months ago and I'm hooked. I'd love to share how I made over our laundry (yep, here in Australia we just call it a "laundry" not "laundry room" as I have learnt from American home blogs!).
Our laundry is the only thoroughfare between the inside and outside of our home, a small townhouse. Since we can't just shut the door, it was important to make the room blend in and easy to keep tidy. After painting over the yucky walls and striped tiles, we added much-needed storage in the form of overhead cupboards and added hooks and rails to make use of the walls. The colour on the back of the shelves matches the wall colour in the adjacent living room for continuity. Removing the patchy window film and adding new stainless steel tapware really freshened up the space. As a finishing touch, a few pieces of art make it a bit more homey.
I have attached some before and afters. You can find more info on my blog AtypicalTypeA.com
Bye from hot hot hot Adelaide!
Alicia
Here is the laundry space before the updates:
Get ready to give your fingers a workout, because you will be scrolling up and down to compare the jaw dropping before and afters... It's incredible what was done to this space! Ready? Set? Go!!
WOW with a capital W O W! I am speechless yet want to scream YAHOO in delight for this happy, clean, organized laundry!
Where do I begin? The green accent, LOVE. Just that tiny pop above the sink completely tied in the laundry with the living space through the door. And brought in the fresh green from outside as well!
She kept it simple! She knew she had a small space to work with, and kept the belongings to essentials only. The "essentials" also double as accessories, which I ADORE!
She utilized her wall space, with those great
Bygel rails
and
Asker cups
! Anyone who knows me, knows it was probably that concept that won me over from the start.... Plus, she added hooks to hang the items that weren't cup appropriate! Adding shelving on the other wall was a HUGE win in this space, walls are a great place to add much needed storage, and this room absolutely proves that point!
I really am crazy in love with all the white as well. It really makes that small space seem twice it's size. And fresh. And clean. And Organized!
And last but absolutely not least, the pops of art! Swoon. They are the perfect prints to bring in additional color to the space!
I am taking notes on this one! Everything about this is just right!
A special THANK YOU to Alicia for writing and sharing her fantastic space with us!
Now it's your turn! What do you love? What ideas can you borrow?
And a button for you: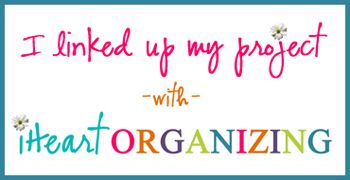 And feel free to leave some extra love for Alicia, and stop by to check out
her blog here
!
P.S. Have an awesome organizing story to share? I am looking for projects that have made a positive impact to your life. Please send your story and photos to iheartorganizing@gmail.com and I would heart to feature them right here, on the blog!! Photos should be high resolution and un-editted. Please include a description of the project, including any costs, inspiration, and how it has changed your routine for the better is so helpful! Oh, and no worries my friends, we will NEVER judge "before" pictures because that just wouldn't be nice! Only love goes on at this blog!